In this article, we will be sharing how to get and use the $200 free DigitalOcean credit coupon, which you can use to build websites, web apps, mobile apps, video streaming services, games, SaaS, PaaS, DBaaS, API and to run batch and streaming big data workloads.
But before we delve any further into how you can use this free DigitalOcean coupon worth $200, please learn how to properly activate this promotion coupon.
How to Get the Free Digital Ocean Credit
To use the DigitalOcean promo code, you will have to click on the "Get $200 DigitalOcean Credit" button below or anywhere on this page in order to activate the free credit.
Please note that you may not be able to avail the free DigitalOcean credit if you go directly to DigitalOcean's website.
CAUTION: To avail the DigitalOcean promo, before creating your account on DigitalOcean, please make sure that you see the following message or something similar on the DigitalOcean website during signup:
Free Credit Active: Get Started on DigitalOcean with a $200, 60-day credit for new users

If you do not see this message or something similar, the free credit coupon may not have been activated.
You may have to click on the "Get $200 DigitalOcean Credit" button again or change the settings of your browser to allow cookies.
Once have activated the $200 free DigitalOcean credit, you will have to create an account on DigitalOcean using your email.
Alternatively, you can use your Google or GitHub account to create a new account on DigitalOcean.
Simply add your Billing details and you are all set!
Once you hve followed all the steps above, you will receive a notification in the DigitalOcean app and via email confirming that you have succesfully activated the $200 free credit.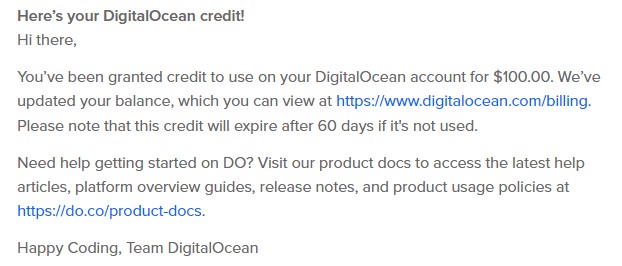 How the Free DigitalOcean Credit Works
After activating the DigitalOcean promo credit, you can start building your websites and applications on DigitalOcean immediately.
At the beginning of the next month after you registered on DigitalOcean, your accrued DigtalOcean expenses will be deducted from the $200 free credit.
Once your expenses on DigitalOcean exceed the free $200 credit by DigitalOcean, your preferred payment method on file will be charged.
However, please note that the $200 free credit is valid for 60 days only, and any remaining credit will become unavailable 60 days after you registered.
Who can use this Free DigitalOcean Credit?
The DigitalOcean promo coupon is valid for new registrations only.
$300 Free DigitalOcean Credit: Does it even Exist?
There is no such thing as a $300 free DigitalOcean credit or $300 DigitalOcean coupon. DigitalOcean only offers a one-time $200 free cerdit to new users.
Use the Free Credit to build Websites, Apps and much more on DigitalOcean
You can use the $200 DigitalOcean credit to build websites including WordPress websites, WooCommerce websites, simply with the help of the 1-click WordPress installation app avaialble on the DigitalOcean Marketplace.
Alternatively, you may use the DigitalOcean promo code to host and quickly develop Mobile Apps and Web Apps like Instagram, Uber, TikTok, Messenger or even another Finger on the App like Mr. Beast has done!
On DigitalOcean, you can use the promo credits to build games on DigitalOcean's high performance virtual servers known as droplets and benefit from CPU optimized servers for games that demand fast and consistent power, all at one of the lowest bandwidth costs in the cloud hosting industry!
In addition to that, the developer-friendly cloud platform provided by DigitalOcean provides a dependable insfrastructure on which to build and deploy SaaS, PaaS, DBaaS, API and other managed services on DigitalOcean Droplets or DigitalOcean Kubernetes. You may make use of your free DigitalOcean credits for these managed services as well.