Divi Review (2023): Is it the Best WordPress Theme and Page Builder?
Divi Pros
Drag-and-drop Visual Builder
Use on unlimited websites
Excellent Support and Documentation
Excellent Functionality
Easy to use
Includes WooCommerce Builder
Incudes Extra Theme for Publications
Includes 2 Marketing Plugins
Hundreds of website templates
Great value
Divi Cons
Considerable learning curve
Visual Builder is slow on large pages
Yearly Access
10% Off Original Price
Divi Theme

Divi Builder

Extra Theme

Bloom plugin for email marketing

Monarch Plugin for social sharing

Ready to use website templates

Premium Support for 1 Year

Updates for 1 Year

Use on Unlimited Websites

One Time Fee
Lifetime Access
10% Off Original Price
Divi Theme

Divi Builder

Extra Theme

Bloom plugin for email marketing

Monarch Plugin for social sharing

Ready to use website templates

Lifetime Premium Support

Lifetime Updates

Use on Unlimited Websites

One Time Fee
How This Divi Review Can Help You
With so many WordPress themes to choose from, we thought of doing a review of the Divi theme by Elegant Themes to help bloggers and WordPress website developers, understand the value of the Divi builder and how it can help them build outstanding websites.
In addition to just being a Divi review, this article will also provide a quick review of Elegant Themes, and all the products that they have to offer, including the Extra Theme for online publications and magazines, the Bloom plugin for email marketing and the Monarch plugin for social media sharing, all of which are included in the Elegant Themes package.
We'll start off with a brief overview of the Divi Theme and of the company behind it and we'll clear some confusion between the Divi Theme and the Divi Builder Plugin.
We'll also share with you what we love about Divi, including all the Divi modules and all the Divi features that are helping us in our business.
Next, we'll show you all the premium plugins and features that you'll get if you purchase Divi.
In addition to that, we will demonstrate some of the features of the Divi theme by using these features on this page!
Because we want this to be the ultimate Divi review!
Finally, we will evaluate the Divi theme builder based on its functionality, ease of use, value for money, reliability, customizability, and support.
To ensure that our review of the Divi Theme is a balanced one, we'll also point out some of the cons of using the Divi theme and will share some of the glitches in the Divi theme builder that we have experienced so far.
Divi Coupon
Get 10% off with this Divi Coupon Code
Are you looking for a discount on Divi? If that's the case, then you have come to the right place!
The Elegant Themes package, which includes the Divi Theme, the Extra Theme, the Bloom plugin, the Monarch Plugin, the license to use all these themes and plugins on unlimited number of websites and the amazing lifetime support from the team Elegant Themes, normally costs $ 249 if you purchase the Elegant Themes Lifetime Access package or just $ 89 per year if you purchase their Yearly Access plan.
However, if you use the special 10% off Divi discount code included in this Divi review of ours, you can purchase the Elegant Themes Lifetime Access plan for just $224 instead of $249, or you may purchase their Yearly Access plan for just $80 per year.
Keep in mind that, if you purchase the Elegant Themes Lifetime Access package, you get access to lifetime updates and lifetime support.
However, if you purchase the Yearly Access plan of Elegant Themes, you get access to 1 year of updates to all plugins and 1 year of premium support. Once you renew your Elegant Themes subscription at the end of your first year, you'll get access to updates and support again.
It is for this reason that we recommend purchasing the Lifetime Access plan the first time you purchase the Elegant Themes package.
What's more? When you use the Divi discount code on this page, you are already saving hundreds of dollars on annual subscription fees with the help of this 10% off Elegant Themes discount code.
If you look at it from our perspective, you'll be saving much more than 10% by purchasing the Lifetime Elegant Themes subscription.
In any case, to avail this 10% off Divi coupon, use the "Get 10% Off" or "Try Divi Now" buttons on this page to make a purchase, and the Elegant Themes discount code will be automatically applied to your purchase. When you do so, we may earn a commission, at no additional cost to you. This will help us continue to create such outstanding content for you.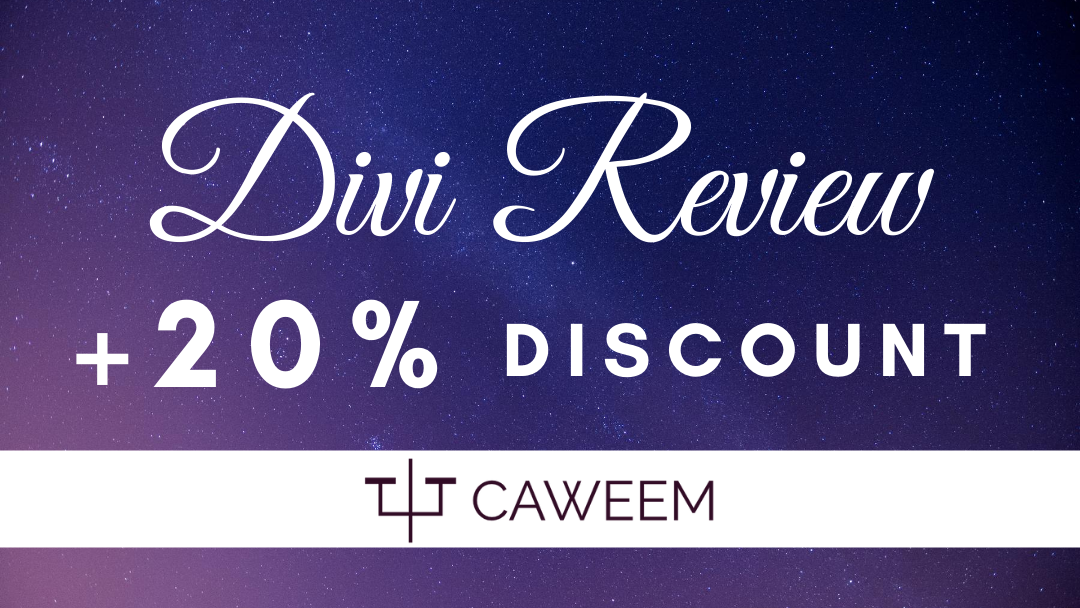 Divi Overview
If you have been searching for the best WordPress themes, then you should have come across the Divi WordPress theme and the Divi page builder.
As a matter of fact, Divi is the most popular WordPress Theme in the world, based on statistics from builtwith.com.
This highly popular WordPress theme and drag-and-drop page builder has been developed by Elegant Themes.
This company has evolved from a college apartment into a global WordPress community, now often referred to as the "Divi Nation" thanks to their flagship WordPress theme.
But before we delve any further into the pros and cons of Divi, let's first understand the difference between the Divi Theme and the Divi Builder.
Divi Theme versus Divi Builder : What's the Difference
The Divi Builder Plugin is a WordPress plugin for building websites and works with all WordPress themes. In contrast, the Divi Theme is a fully customizable WordPress theme and includes the Divi Builder.
So if you are currently using or wish to use any theme other than the Divi Theme, you can still utilize the drag-and-drop Divi page builder by installing the Divi Plugin, as it is officially known.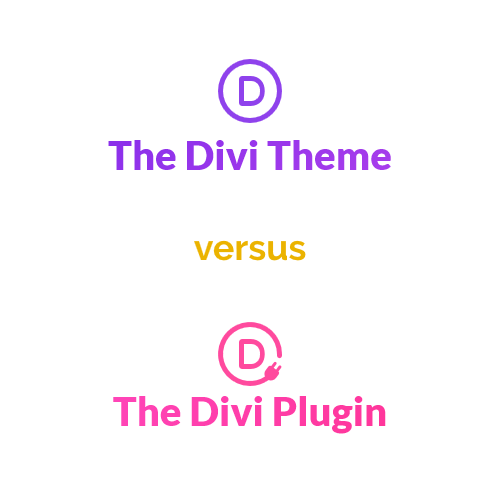 However, note that both the Divi Theme and the Divi Plugin, along with other popular WordPress plugins from Elegant Themes, are bundled in a single package.
So the choice between using the Divi Theme and the Divi Plugin depends on what WordPress theme you are using or are planning to use.
Since the Divi Theme turns out to be ideal for building any type of WordPress website, most people choose to deploy the Divi Theme on their WordPress websites, enabling them to benefit both from the Divi theme itself, and the Divi Builder that comes with it.
Divi Theme's Best Features
What good would this Divi review be without highlighting our favorite features of Divi. Here are some of the best features of the Divi Theme, in our opinion:
Divi Global Defaults and Divi Presets
This feature sets the Divi Theme and the Divi Builder, apart from most of the other WordPress page builders, and is also one of our favorite features.
Although the Divi Presets is a relatively new feature of the Divi page builder, it is based on a simple concept that Divi web designers have come to relish: The ability to quickly make changes to existing Designs.
As a matter of fact, the all-new Divi Presets feature, which was recently announced in July 2020, is actually based on the Divi Global Defaults Editor that was released back in 2019.
What exactly is the Global Defaults Editor?
Let's say that you started designing a WordPress website, without paying much attention to the design and color of the buttons on the website.
Later on, you come across research that compels you to reconsider and change the design and color scheme of the buttons on your website.
How would you make that change? Can you imagine having to modify the style of each and every button on a website with hundreds of buttons?
Thankfully, a feature of the Divi Theme, known as the Divi Global Defaults Editor allows you to define the default design styles for all the various Divi modules including Button Modules, Divi Blurb Modules and so on.
Using the Divi Global Defaults to make any changes will not only change the existing design of the Divi modules, but will also be applied to all the new respective modules that you create.
In all cases, any change made to a Global Default setting will take effect across the entire website.
What is the Divi Global Presets feature?
The Divi Global Presets feature is a class-based design system that allows you to customize the design of any Divi module, row or section, and then can save the design settings as a Divi Preset.
Just as in the Global Defaults Editor, a Global Preset can be applied to elements and modules across your entire website and any changes made to a Global Preset will be reflected in the existing elements and in any new elements you create with the Preset.
So the next time you create a new element which is going to be based on an existing design, you can simply apply the Global Preset of that element to the new element, instead of having to design it from scratch.
At this stage, you may find it hard to distinguish between the Global Presets feature and the Global Defaults Editor. But there is a major difference between the two.
What is the difference between Divi Global Defaults Editor and Divi Global Presets?
The main difference between the Divi Global Defaults editor and the Divi Global Presets is:
The Divi Global Defaults Editor allows only one Global Default (setting) for an element.

Divi Global Presets allows multiple Global Default (settings) to be used for any element in Divi
In case of the example discussed above, instead of having a single Global Default for the design of your website's buttons, you can create, save and use multiple design presets with the help of the new Divi Global Presets feature
Here is a quick demonstration of how we used the Divi Global Presets to instantly change the font color from purple to golden.
Divi Theme Builder
Apart from the confusing name, the Divi Theme Builder is actually one of the best features of the Divi theme and is particularly useful for businesses and websites that require different header, footer and/or body styles to be displayed on a certain set of pages.
As an example, consider the footer on this page, which you will find on most of the pages on our website. It looks like the following: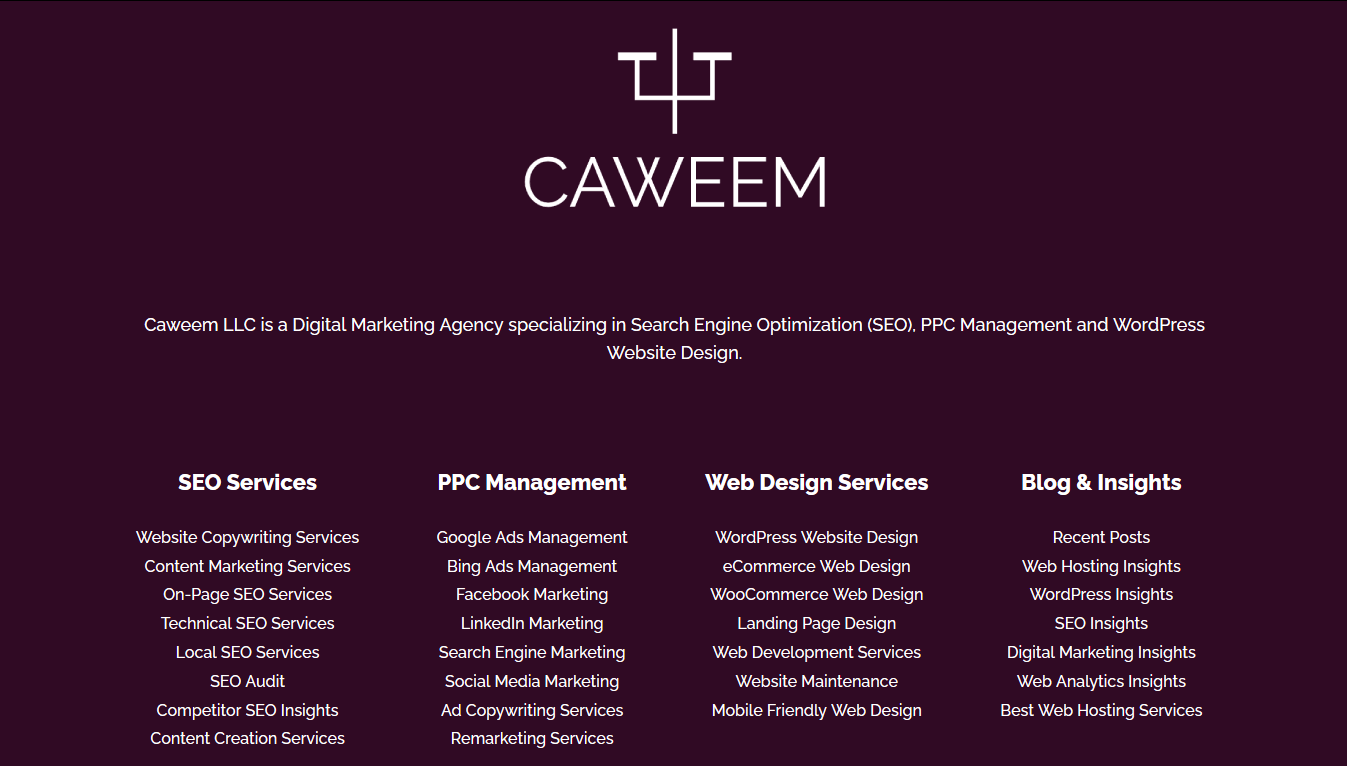 In contrast, the footer of our Best Web Hosting Services page, which helps users decide on the best web hosting service based on their particular needs, looks like this: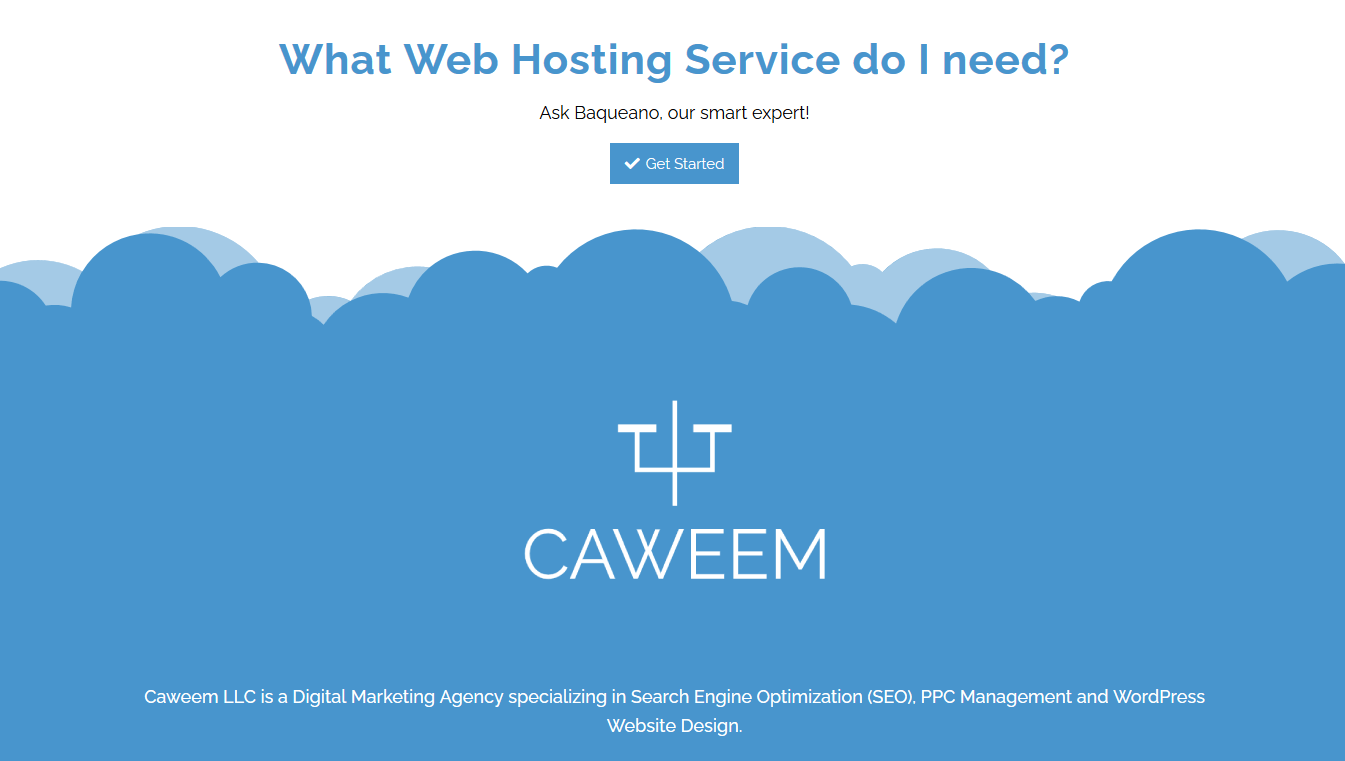 We did this because we wanted our users to be able to distinguish our services, including our web design services, SEO services, and PPC management services, from our Ask Baqueano tool, which promotes third party web hosting services.
We are also promoting cloud hosting services so we thought we should have a different header and footer formatting for the services we are trying to promote. That's also why we decided to have clouds in the section divider of the footer.
In addition to that, this Divi Theme Builder feature is useful for designing landing pages, where you may not want to include links to your social media profiles, and to your blogs, so that when the users land on a particular landing page after clicking on an Ad, they can focus on your Call to Action elements and thus convert into your customers.
Divi WooCommerce Builder
Also known as the Divi WooBuilder, this Divi feature will be your favorite feature if you are going to build a WooCommerce website.
Simply put, the Divi WooCommerce Builder allows you to design and customize each and every element of your WooCommerce product pages and most other WooCommerce shop pages, as per your design requirements.
To enable you to create and control any individual WooCommerce element, this amazing feature comes with 16 new WooCommerce modules that open up a new dimension of design possibilities, that was not possible before.
In addition to that, the Divi WooCommerce Builder enables you to dynamically create product listings for any of your e-commerce products, based on the data stored in your WordPress product database.
At Caweem, we love this feature because it helps us design WooCommerce pages that not only meet our clients' design requirements, but also exceed their expectations.
These features are the reason why we recommend Divi for WooCommerce.
Here are some of the examples of what is possible with the new Divi WooCommerce Builder, courtesy of Elegant Themes.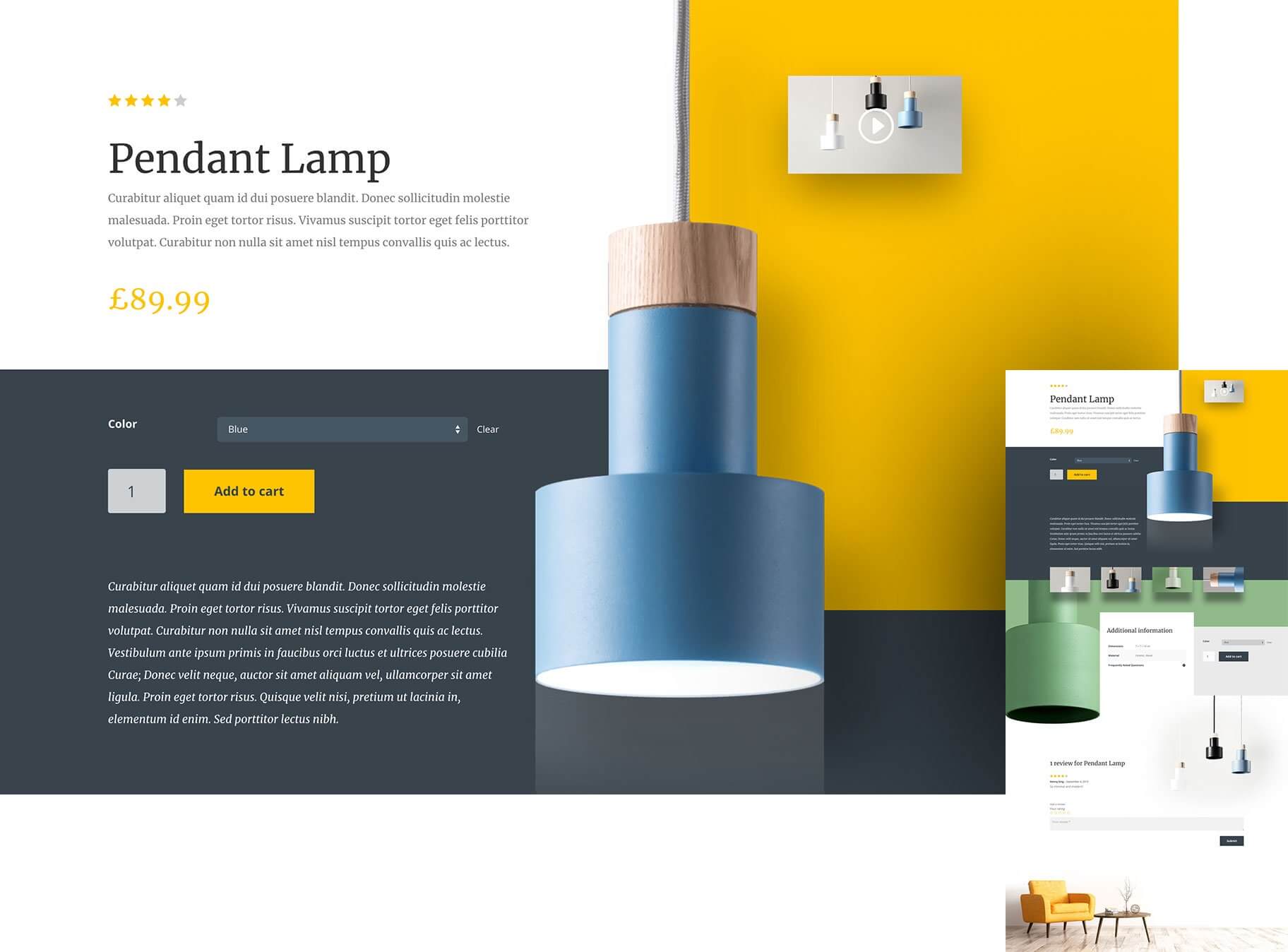 Here is another example of a product page for a watch, courtesy of Elegant Themes.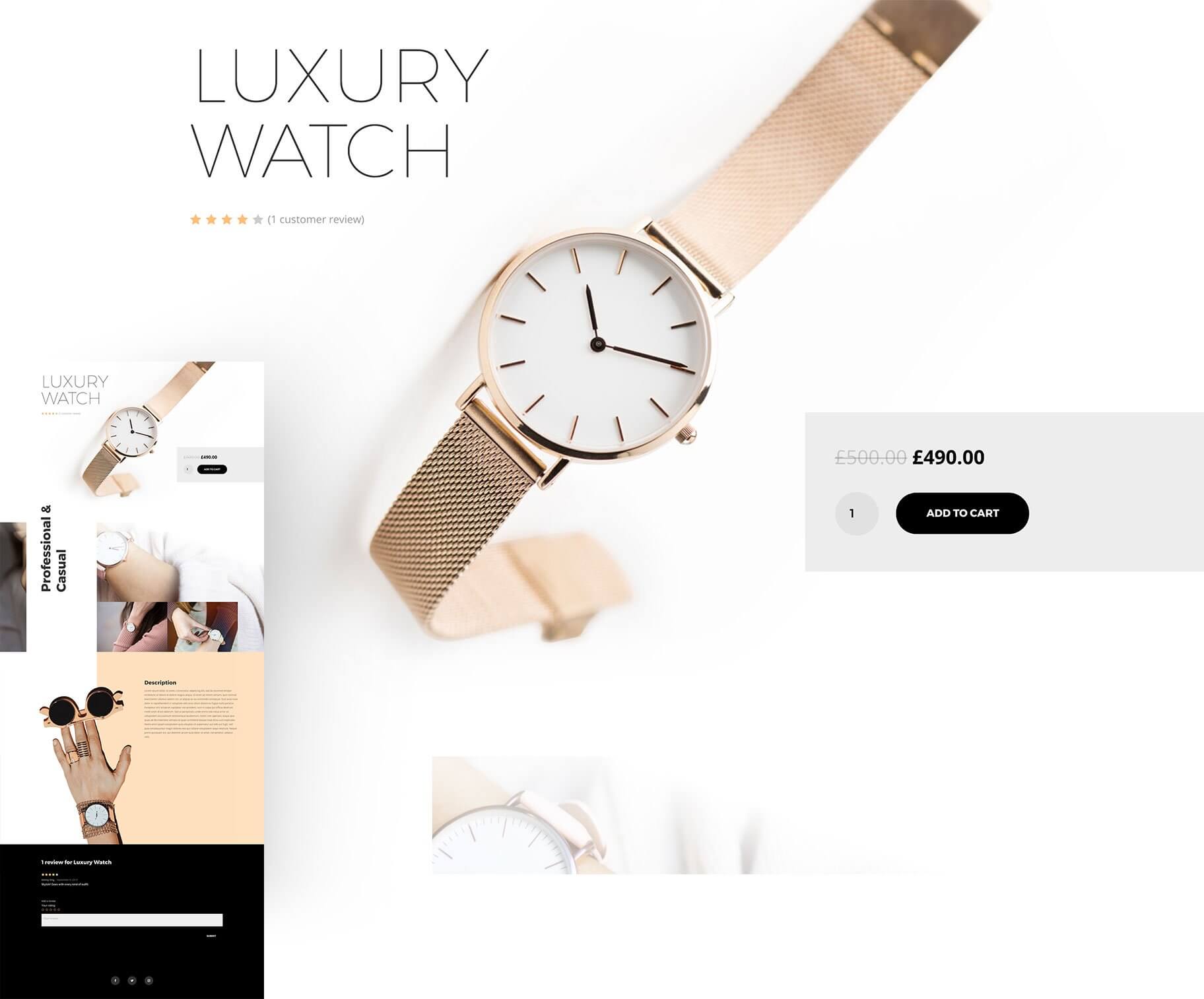 If you are looking for a design agency to build such stunning designs, you may hire us.
Divi Leads Conversion Optimization
Since we are a digital marketing agency, we fully acknowledge the power of conducting online experiments to improve conversion rates.
Fortunately for us, the team at Elegant Themes also shares the same notion, and have consequently come up with a solution to help website developers conduct A/B testing of vital UX/UI elements.
They aptly refer to this tool as Divi Leads, as it enables you to conduct split testing on any element of your website, including content and design elements, so you can collect statistics on these different variants and analyze which ones are generating more Leads.
Then, based on these statistics and insights, you can figure out which version of the split test subject is performing better than the others, and pick the winner.
In this way, the Divi Leads tool helps you with Conversion Rate Optimization.
This is also the reason why we, at Caweem, consider the Divi Leads feature as one of the best Marketing tools in Divi.
Divi Code Module
As a WordPress web design agency, we at Caweem, regard the Divi Code Module as one of the best features of the Divi Theme.
This is because we often need to add customized code snippets to enhance the UX/UI features and the functionality of WordPress websites, including the websites of our clients and our own websites.
This is where the Divi Code Module come in as it allows you to add custom code, including HTML, CSS and JavaScript, onto any WordPress web page where you insert the module.
A prominent example of our use of the Divi Code Module is the typewriter introduction on our home page, which welcomes our users and introduces them to Caweem.
Here is a preview of the code module in action, based on the code on our home page.
The Divi Code Module is also where you will have to enter the plugin shortcodes to enable certain plugins to run on your web page.
In short, the possibilities of the Divi Code Module are limited only by one's imagination and knowledge of HTML, CSS and JavaScript.
Divi Scroll Effects
As the name suggests, the Divi Scroll Effects feature allows you to create advanced animations and transitions that come into play as your website visitors scroll up and down the page.
Since our web design philosophy does not allow us to create meaningless designs, we are demonstrating Divi Scroll Effects on this page in the most meaningful ways in which we can.
Previously, in this review article, we were demonstrating some scroll effects on this page, including Vertical Motion Effects towards the top of this page, and the Horizontal Motion Effect in the heading of this section.
However, you can now preview these scroll effects here.
Some of the scroll effects we demonstrate include in this review include:
Blur Effect
Scale Effect
Fade Effect
Rotation Effect
Vertical Motion Effect and Horizontal Motion Effect
Again, as mentioned above, all of these design effects and animations should be utilized in a way that enchances the user experience, UX and UI for the user and in compliance with Google's guidelines for website design.
We also recommend you to check out these helpful design resources by Google.
Divi Sticky Options
Having being recently realeased in the summer of 2020, the Divi Sticky Options feature will quickly become one of the most handy features of Divi that we use.
This feature will allow you to stick any element to the top and/or bottom of the browser viewport as a user scrolls up and down the page.
Having first used it in our recently published Nexcess review, the Divi Sticky Options enabled us to display a sticky or floating review summary in the sidebar of the review, without having to install an additional plugin or having to code it manually. We have also recently changed the layout of this page to utilize this same look and feature.
Elegant Themes has something Extra to offer
If you are thinking that the Divi Theme is the only WordPress theme by Elegant Themes, then we have an Extra good news for you!
In their quest to build the best WordPress theme for blogs, the team at Elegant Themes have created a new blogging theme, called Extra, based on their flagship Divi theme.
The Extra Theme for WordPress is a powerful blogging theme which is ideal for anything from a standard blog to a large multi-author online publication, including online magazines and online newspapers.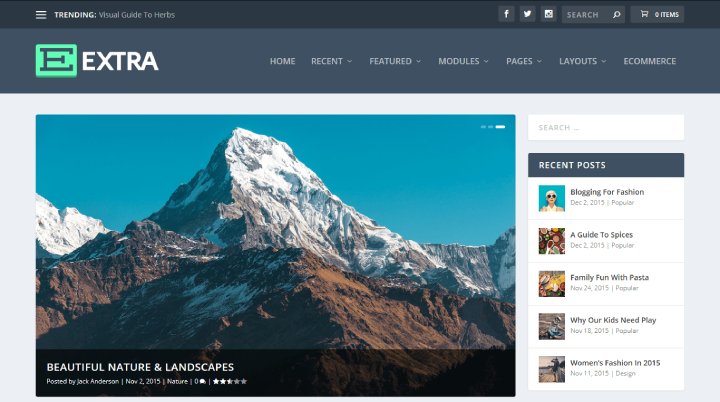 Bloom with Email Marketing
In addition to the Divi and Extra themes, you'll also get access to Bloom, which is a marketing plugin for WordPress that will help you get more email subscribers and more leads.
With Bloom, you can convert your website visitors into loyal followers and customers by strategically displaying email opt-in forms on your website.
These email opt-ins can be strategically displayed as:
Automatic Opt-In Pop-Up
Automatic Opt-In Fly-Ins
In-line Opt-In Forms
Below Content Opt-In Forms
Widget Area Opt-In Forms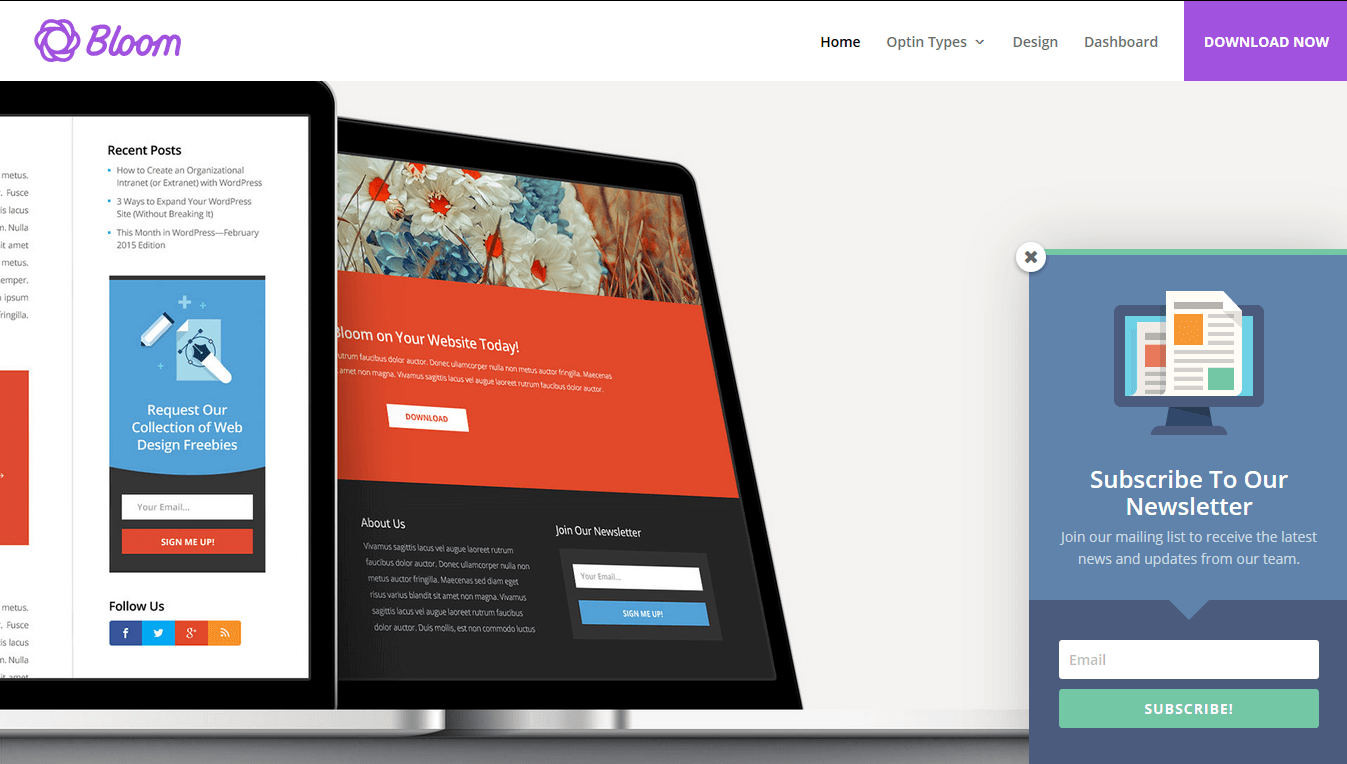 You can also Seamlessly integrate Bloom with most of the popular email marketing services, including:
Mailchimp
HubSpot
ConvertKit
AWeber
MailPoet
CampaignMonitor
GetResponse
Active Campaign
ConstantContact
iContact
MadMimi
Feedblitz
Salesforce
Sendinblue
OntraPort
Mailster
Infusionsoft
Mailerlite
Emma
The Monarch of Social Media
When you purchase the Divi theme, you'll also get access to the powerful Monarch, which will enable you to conquer the realms of social media
Monarch is a Social Media sharing plugin, which will allow your website visitors to share your pages and posts on over 20 different social media directly from your website.
To maximize and encourage social sharing, you can even customize the location of the sharing buttons and can configure automatic sharing pop-ups that can be triggered based on the users actions on the page.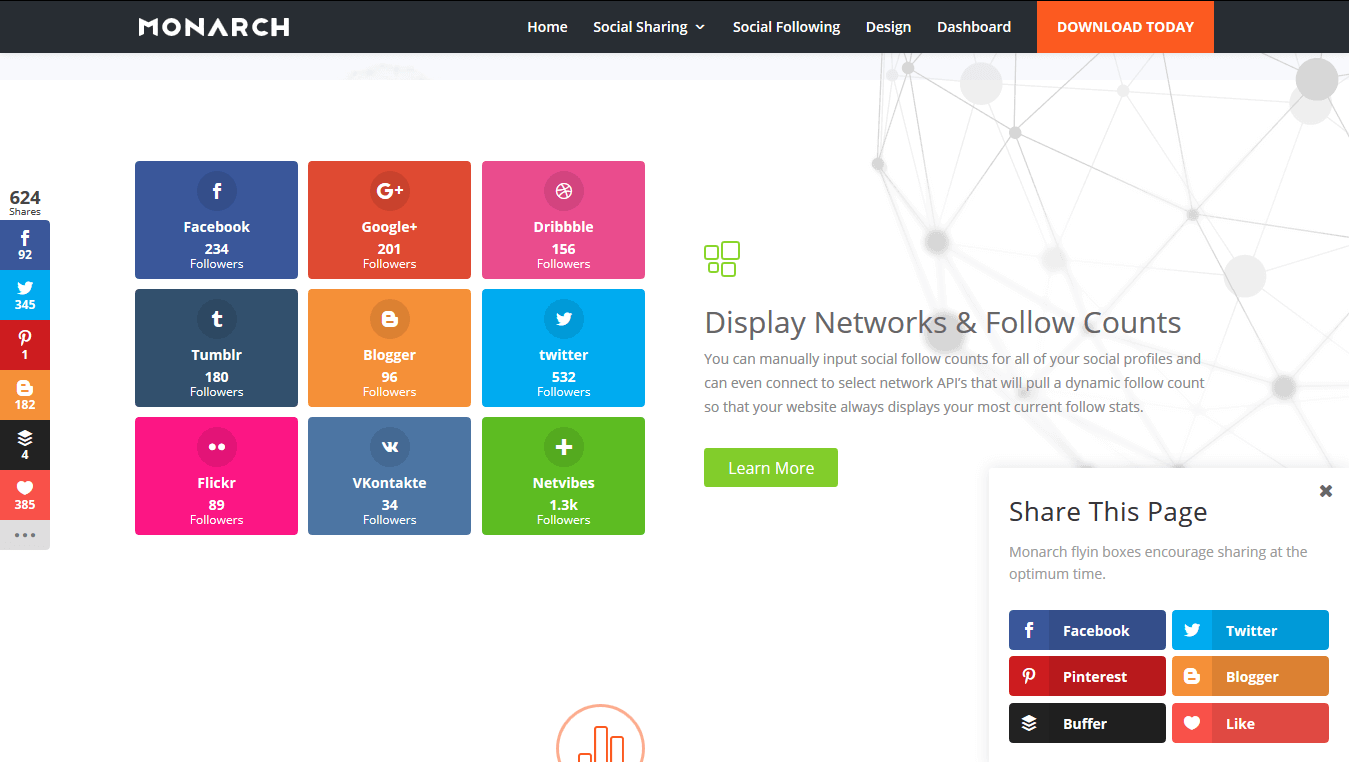 Our Verdict on the Divi Theme
Now that you have seen some our favourite Divi theme features in action, let us review the Divi theme based on its functionality, value for money, usability, compatibility, reliability and level of support and documentation.
Functionality
Even though we have tried our best to shortlist and demonstrate some of the best features of the Divi Theme, no Divi review can possibly explain all the benefits and features of the Divi Theme.
In short, if your objective is to build a modern and elegant website, just like ours, then be assured that the Divi theme offers much more than what you may need in terms of features and functionality.
As a matter of fact, there is a module for almost every important design element in Divi, that you would require when building websites.
At the forefront of all of these features is the powerful Divi visual builder, which allows you to build websites visually by using these drag and drop design elements or modules.
Hence, as a web design company, we think that the Divi theme deserves a perfect 5-star rating for its features and functionality!

Support and Documentation
In addition to providing a complete set of WordPress website building tools, the team at Elegant Themes are also renowned for their outstanding customer support services.
Should ever have any question, or require any technical assistance, you can directly contact the Elegant Themes team via the Live Chat on their website and they will respond to you as soon as they can, typically within a few minutes.
You may also access their extensive, yet simple-to-understand documentation, just in case if you ever need to.
Since we have been their customers for quite some time now, we know how much they care about their customers. Based on our experience with them, anything less than a 5-star rating for their support would be injustice.

Usability
Speaking of the usability of the Divi Theme as a WordPress page builder, you will find the Divi visual builder very intuitive and easy to use.
In the beginning, however, you will find the learning curve of Divi to be a bit steep, especially if you have not used WordPress before.
In terms of overall usability, we'll give the Divi theme 4.5 stars

Compatibility and Reliability
Since we build WordPress websites, both for our clients and for our own business, we have gained good experience of the ins and outs of using Divi.
As the Divi theme happens to be one of the most popular WordPress themes, it is compatible with most other WordPress plugins, especially with the popular ones.
Despite that, we have encountered situations in which certain WordPress plugins, including some very popular ones, and some web hosting related issues in some other cases, have caused the the Divi theme to break and malfunction.
Thankfully, due to our technical expertise and the support from Elegant Themes, we have been able to overcome such problems.
While we are at it, it is also important to point out that, although the Divi visual builder is very fast and responsive, it becomes slower as pages get larger.
Other than that, we find the Divi theme and the Divi visual builder to be a very reliable WordPress website builder, owing to its consistent development, new feature updates, and bug fixes, if any. We'll give them a 4.5-star for this one!

Value
If you have read our Divi review in detail, we are sure that you will have developed a sense of appreciation for the Divi theme and the complementary themes, content templates, plugins and other resources that come with it.
If you are a WordPress web design company, just like we are, we would recommend you to purchase the Lifetime Access package, which costs $224 only using our 10% Divi discount coupon. The Lifetime Access package includes:
Lifetime Access to Divi, Extra, Bloom and Monarch
Lifetime Access to hundreds of website templates
Lifetime Updates
Lifetime Premium Support
Ability to use Divi, Extra, Bloom and Monarch on Unlimited Websites
A Risk-Free Guarantee
Even if you are not a web design agency, as long as you are willing to make a lifetime investment with a considerably high value, and can allocate $224, we would recommend you to purchase the Lifetime Access package.
However, if you are unable or unwilling to allocate $224 to purchase the Lifetime access package for any reason, then you may purchase the Yearly Access package for just $80/year if you purchase during this limited time sale using the Elegant Themes discount code by clicking the links on this page.

Summary
In short, the Divi is undoubtedly one of the best themes and page builders for WordPress websites because of its superior performance, features, functionality, ease of use, compatibility with other WordPress plugins and high value membership plans with excellent support. 
Now, let us calculate the final overall star rating of Divi in our opinion based on the individual review ratings above namely:
Functionality: 5 Stars
Support: 5 Stars
Usability: 4.5 Stars
Reliability: 4.5 Stars
Value: 5 Stars
That brings the overall review rating to be 4.8 Stars!
We hope that you enjoyed reading our review of Divi, and hope that you will be able to make a more informed decision before purchasing Elegant Themes.
We wish you all the best for your endeavors.
Updated: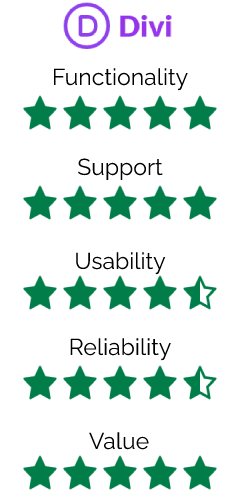 Overall Rating

Try Divi Now
Divi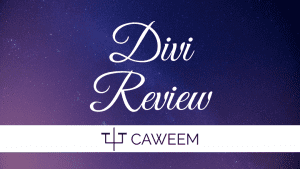 This is how the Divi Theme and Page Builder can give you the competitive edge you are looking for in WordPress website design. Plus get a 10% discount on Divi!
Price Currency: USD
Operating System: WordPress
Application Category: WordPress Themes
Pros
Drag-and-drop Visual Builder
Use on unlimited websites
Excellent Support and Documentation
Excellent Functionality
Easy to use
Includes WooCommerce Builder
Incudes Extra Theme for Publications
Includes 2 Marketing Plugins
Hundreds of website templates
Great value
Cons
Considerable learning curve
Visual Builder is slow on large pages