At Caweem, we are on a mission to help people and their businesses prosper.
In the pursuit of this goal, we have created the Caweem Blog and the Caweem YouTube channel to share highly valuable skills, tips and tricks to help businesses grow.
On this blog and on our YouTube channel, we are mostly sharing our knowledge on things which can directly affect the bottom line of your business revenues.
Things like how to find the best web hosting based on your needs at the lowest possible prices!
Which is why in this post, we will be sharing another secret of ours that helps us minimize the cost of purchasing domains.
In particular, we will be discussing on how to buy .com domains, the most popular Top-Level Domain, at one of the cheapest possible prices on the planet!
Without further ado, let's dive straight in.
Best Domain Registrars ?
As a company that also specializes in creating customized web hosting solutions, we at Caweem, are certain that there is no such thing as the "best domain registrars"
All domain registrars do the same thing: they reserve a name for you or your business/brand on the internet.
Plus doing a whole lot of technical stuff that makes it possible to register domains in the first place.
DNS Management. Domain Forwarding. Nameserver management.
And the list goes on.
Most domain registrars do not differ much when it comes to these basic services.
The main thing that differentiates one domain registry from another is the level of service and support they provide.
And at what cost they provide such services. Which is the main inspiration behind this post.
In addition to that, some domain registrars may also provide some additional value added services for free such as WHOIS privacy protection etc.
If you do happen to find other differences between domain registrars, it is probably just marketing.
Lucky for you, the domain registrar we will be discussing about today is one of the best known domain registrars.
Register Domains at the Cheapest Domain Registrars
At Caweem, this is what we recommed to all our clients: register domains at the cheapest possible prices!
There is no advantage in paying high fees to resellers and other domain registration services who charge double the price for nothing!
Unless if you are paying higher for a value added service, and you know how much that value added service is worth!
Which is why we have shortlisted a domain registrar that will enable you to register your domains at one of the cheapest possible prices while providing you with additional value added services.
Avoid High Domain Renewal Fees
That's another caveat to look out for.
Some domain registrars will charge you less than a dollar or almost nothing in the first year.
And then in the following years, they will charge you at least twice the market price every year for the renewal of your domain with no additional value added services.
Fortunately, the domain registrar that we are going to recommend to you shortly keeps its domain renewal fees very low at about $9.  
Register .com Domains for $9 or less
When it comes to registering domains at the lowest prices, we recommend registering it at Namecheap Domain Registrar which is one of the most well renowned domain registrars out there.
It also happens to be one of the cheapest domain registrars that you can find.
Normally, you can register a .com domain for $8.88 plus the ICANN fee of $0.18 for an entire year.
Which amounts to $9.06 for an entire year.
However, during promotional sales, you can register a .com domain for as low as $5.98 for an entire year.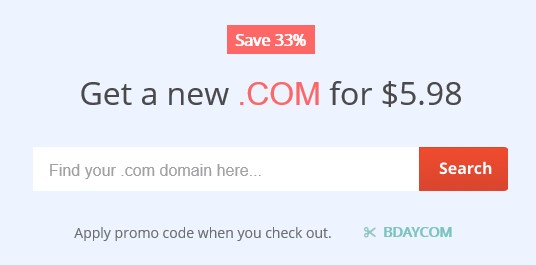 To register your domain, simply click on the button below
Then just search for the domain name that you would like to reserve: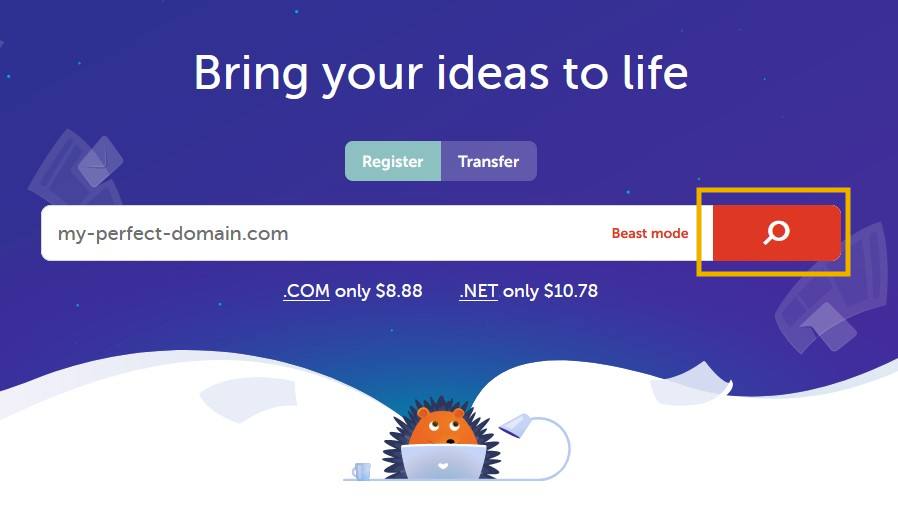 Once you have found your desired domain name, simply click on "Add to Cart":

And proceed to the checkout as demonstrated: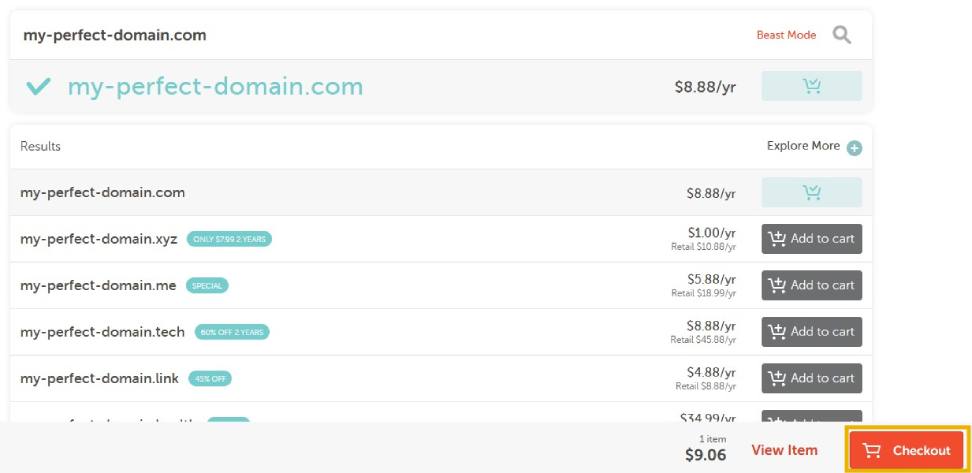 On the checkout page, enable the free WhoisGuard to protect your privacy and make sure to enable automatic renewal of the WhoisGuard for your domain.

In the steps that follow, just enter your name, contact information and billing information and you are done!
Note: If you make a purchase using some of the links on this page, we may earn a small share of the sale at not additional cost to you. We will use this income to continue to create such awesome quality content.
We hope that you found this post interesting and useful. 
If you would like receive actionable tips on how to grow your business or if you would like to get notified on the best offers in the world of web hosting, consider subscribing to our blog.